Page 1 of 4
Τhis document aims to provide a detailed overview of the project's performance and activities with regards to all the deployed awareness raising and communication activities that took place during the 36 months of the ISABEL project.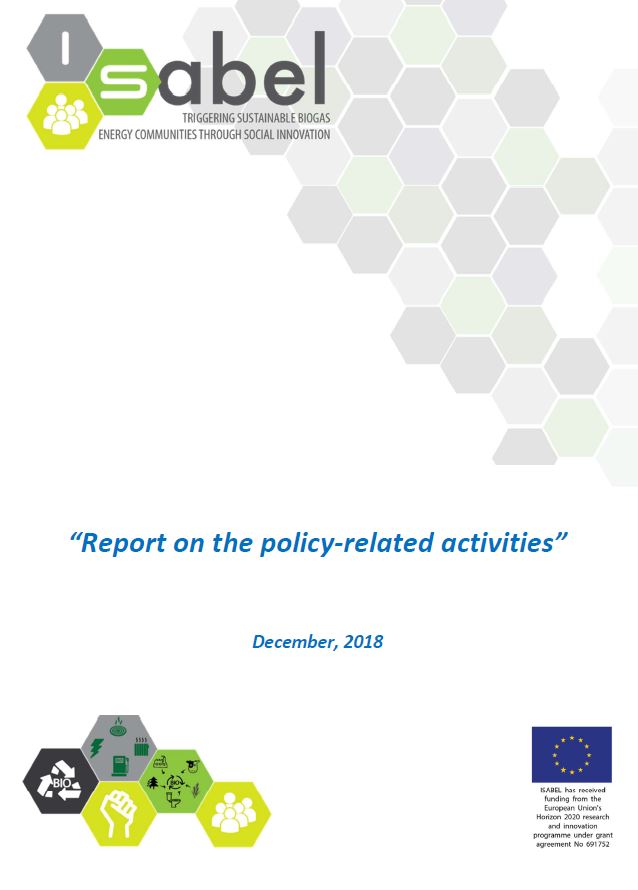 ISABEL presented opportunities to each partner to use a European support network and integrated expertise in order to facilitate the increase in understanding and the political will to influence, change or modify present practice.
During the last stage of the project the aim was to expand the ISABEL concept and approaches to other regions of Europe. This document presents the design for the setting up and uptake of ISABEL concepts and approaches in three additional regions of Europe.
During its "last-mile", ISABEL aspires to achieve a replication of its community biogas concept and approach through a knowledge expansion to additional regions of Europe. This is realized through a two-step process. On the one hand, the project aimed to organize international events with a view to share its knowledge and identify the suitable European
Read more
The ISABEL project is a pioneering one and aims to strengthen the development of sustainable biogas production-consumption systems around Europe by taking full advantage of sustainable biogas growth potential in the three-targeted areas in Greece, UK and Germany. This goal can only be achieved by overcoming previously unknown barriers in sustainable biogas implementation as well
Read more
This document describes the emerging biogas communities in the three targeted ISABEL regions, Baden-Württemberg in Germany, Central and Eastern Macedonia and Thrace in Greece and Yorkshire, Lincolnshire and the Humber in UK.
The scope of the following document is to provide a presentation concerning the Biogas Community initiatives that are under development in three targeted regions (Baden-Wurttemberg, Central and Eastern Macedonia & Thrace and Yorkshire and the Humber) in Germany, Greece and UK respectively.
This report provides a cross-comparative perspective to give us a broader understanding of the differences between the regions in terms of the impact of ISABEL intervention.
The purpose of this document is to highlight and summarise the Impact of ISABEL intervention across the three regions where the ISABEL project has been ongoing since 2016.